I've been working as an interior designer for some time now, but when a new was project handed to me and my colleagues about designing a 6 sq. meters interior design exhibit booth - I screamed to my self, "Wow! It would be just like the college days! and ...uh-oh... what did I do during college days?"
I virtually forgot. So it was like starting from scratch.
So before I forget about this 'same old brand new' experience. I think I should jot down points in setting up and Interior Design Business Exhibit. Here are my experiences for the first two days:
1. Terms! Business - I used this word because the design output for this booth is not as super-fantastic designs that we use to do during the college days. During those times, we try to fit in one exhibit all and every amazing design concept we can come up to. But during this time, it's different. It has to be simple, to be functional and to look fitting for a reasonable budget - without loosing its aesthetic charms of course. It's getting the target market every aspect of interior design worth every cent for. That is why I termed it with the word 'business'.
2. Prior joining an exhibit. Know the details such as:
Who is coining this event?
Where will it be held?
When will it start and begin?
How much is the participating fee?
How much space (sq.area) will be given to each exhibitor?


Upon getting this basic knowledge, you should be able to get into more details like:
Who are the possible target market for this event?
Are these the kind of clients I want to get in touch to?
Am I willing to take financial risks?
When you decided that you want to a part of this exhibit, get into the finer details.
What would be the space I'd be presenting? Living Room, kitchen, bath room or study area? The answer to this question relies on how large the exhibit floor area and how much do you want to spend.
What would be the design concept?
Where should I get resources? This is a good topic to discuss, some spends fully for their exhibit, while some are just able to borrow furniture and accessories, (even flooring and wall materials) from suppliers they are connected to. The last option is a very good strategy, you can save money and at the same time provide advertising opportunities to the suppliers you borrowed items from.
3. The concept. During the first day of sketching and thinking of concepts, I got so blank. I want something like an "interior design vignette" style. Given with a 3m x 2m floor space at 1.83 height, two sided walls, I was like - what the heck can I put in here?!
My boss wanted it simple, but I wanted it to look like a model unit of some space. So, despite the fact that my boss wants it really simple, I still sky rocketed with a few sketches.
Here are my first rough sketch studies:
SCHEME 1
Just one line of seating, some coffee tables to discuss portfolios.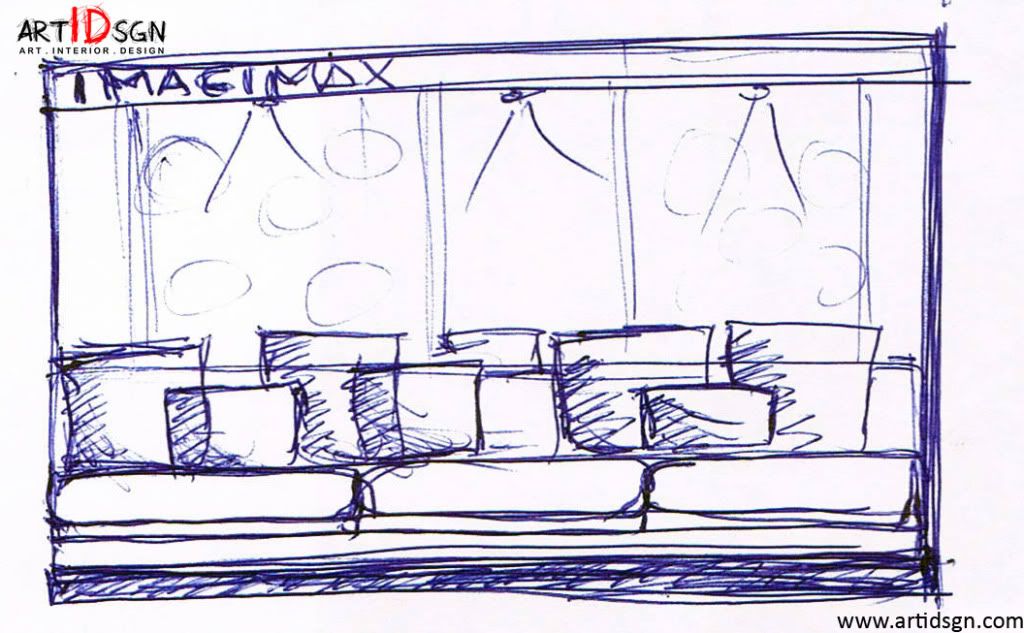 On the wall, I want to put some decorative elements, either via texture, accessories or lighting. I also plan to put lots of color coordinated pillows on the comfortable seats.
I was also thinking of hanging sheer curtains to add mystery - but hey - it was just a thought.
SCHEME 2
A corner sofa for business talks.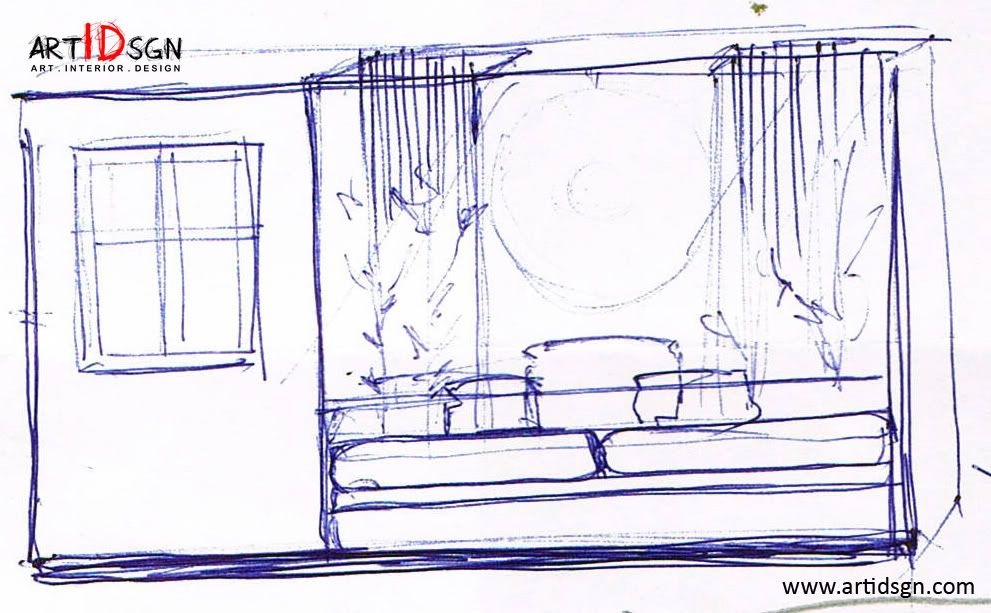 One of my colleagues want to put a fake window, so I placed it there. For the backwall, I want to show an indoor garden with an accent decoration on the middle. In front is a seating furniture with three interesting throws.
View for scheme 2.
SCHEME 3
Scheme 3 is actually the first concept I had in mind. It's a small TV/Family area. The long wall shows a media cabinet with LCD (I was thinking we could present slide shows on that TV). On the media cabinets sides are wall units made of 2" x 2" wood posts supporting picture frames, drawers and shelves. While the shorter wall is made of full length mirror and carries the company's logo. The furniture are two swivel chairs in leather and a center table for the portfolios.
These are my initial sketches for the interior design booth. I had fun drawing them.
I will write a new blog post what will happen on the following days of this encounter.
If you have suggestions and tips on designing an exhibit booth, please do share it here!
I will be glad to hear wonderful ideas from design enthusiasts!
'till the next ish! Thank you for reading!